Jeff Barum
Owner / President
Owner and President Jeff Barum started Designed Cabinets in 1991. After spending 16 years building cabinets for other shops in the area, he felt he'd honed his cabinetry expertise, craftsmanship, and detail work to open his own shop — one that focuses on creating pieces to both meet the needs of homeowners and preserve the style, beauty, and integrity of their homes. Though Jeff is now semi-retired, he still maintains this level of commitment and has instilled it into each member of his growing team. In his off hours, he likes to spend his time hunting, fishing, golfing, flying, and auto racing. Yes, he's a man of many interests. Jeff currently lives in Prior Lake, MN, with his wife, Lori, of 35 years, and they're the proud parents of two wonderful kids.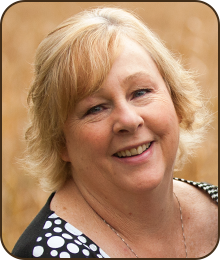 Lori Barum
Owner
Lori is more than Jeff's wife. She's been heavily involved with the business from the very start, seated squarely behind her trusty typewriter to handle our books, bids, bills, and bank account. Like Jeff, she too is proud of the whole company, taking most pride in the integrity of our staff and the quality of our products. Nowadays, Lori can be found in her garden, spending time with friends, and doting on her three grandkids. She splits her time between the family home in Prior Lake, their Hackensack cabin, and their winter getaway at the golf course in Florida.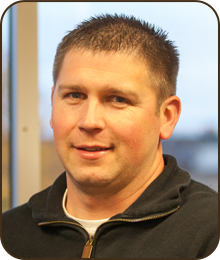 Jeremiah Flinck
Vice President
Jeremiah Flinck joined Designed Cabinets in 2002. As our VP, Jeremiah is responsible for overseeing all operations of our shop and showroom. In other words, it's up to Jeremiah to keep the business running smoothly. And though he enjoys many aspects on the job, two top the list: building pieces that homeowners take just as much pride in as we do and preserving the family-business atmosphere our clients have come to love. A true Midwesterner at heart, Jeremiah is all about the great outdoors, spending his off-hours playing hockey, snowmobiling, four-wheeling, and camping — weather permitting, of course. He and his wife live in Prior Lake, MN, where they're raising their two children.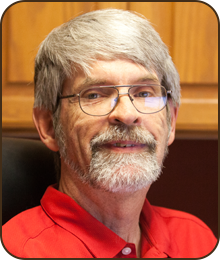 Del Swanson
Estimating, Project Advisor / Project Manager
Del Swanson is one of our original team members, having joined Designed Cabinets when we first opened our doors back in 1991. At that time, he'd already been in the industry for 19 years, so he brings nearly 45 years of experience to each and every job. Del is responsible for meeting with builders and homeowners to develop plans on how to get the best use and function out of a space while still delivering on a client's vision for the cabinetry — the round walnut bar in our gallery was Del's handy work. When he has the time, Del enjoys golfing, traveling, and watching his grandkids' sporting events. He and his wife live in Apple Valley, MN. They have three daughters, seven grandchildren, and two cats, Brick and Cocoa.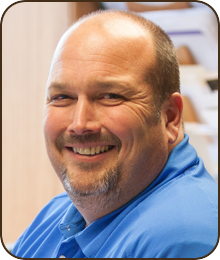 Tom O'Donnell
Designer / Project Manager
Tom O'Donnell has been with us from almost the very start, joining our team in 1992. As a designer and project manager, Tom oversees all aspects of a project — from start to finish. He can handle anything we could ever throw at him. When not at Designed Cabinets, you'll often find Tom camping, golfing, coaching hockey, and spending some quality time with his three kids.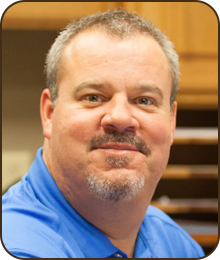 Jim Hutchinson
Designer / Project Manager
Jim Hutchinson has been with Designed Cabinets since 1995. He brings a great deal of knowledge and experience to his position as designer and project manager, having worked as an installer, cabinetmaker, shop foreman, and salesman. So, it should go without saying that you're in good hands when Jim is on the job. He's pretty much done it all, including earning a degree in carpentry and cabinetry. When not designing and drafting cabinets and built-ins for our customers, you'll often find Jim up at his cabin, fishing and spending time with the family. He, his wife, their son, and the family pooch, Hodgie, currently live in New Market, MN.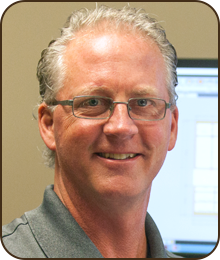 Tom Carney
Designer / Project Manager
Tom Carney has been with Designed Cabinets since 1993. As one of our designers and project managers, Tom is responsible for providing our cabinetmakers with designs perfectly suited to the homeowner's specifications. In fact, one of his favorite parts of the job is seeing the completed product built off some of the most intricate designs. Tom lives in Lakeville, MN, with his wife of 11 years and two stepsons. Besides hunting, fishing, and spending time with friends and family, he enjoys visiting new restaurants around the Twin Cities area (with his lovely wife, of course) to try different foods from around the globe. Jim Kettinger
Designer / Project Manager
Jim has been part of the Designed Cabinets team since 1998. As one of our designers and project managers, he's involved with the entire process — from concept to completion. When not at work, Jim enjoys antiquing, restoring antiques, camping, off-roading, and spoiling his grandkids. He currently lives in Rosemount with his wife of 34 years and their junkyard dog, Festus. The couple has two children and three grandchildren.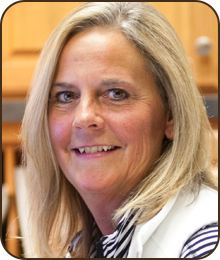 Karla Carney
Estimator
Karla Carney rejoined our team in 2008, after working with us from 1996 to 2004. Like Jim, Karla has done everything under the sun when it comes to this industry — and then some. She has a background in residential construction, tile and solid surface tops, real estate, mortgage and title, and estimating, which is her current responsibility at Designed Cabinets. She works closely with designers, architects, builders, and homeowners on pricing and coordinating projects for both cabinetry and countertops. What free time she has left is spent traveling, trying out new restaurants with her husband, Tom, and spending time with their two sons. She and her family currently live in Lakeville, MN.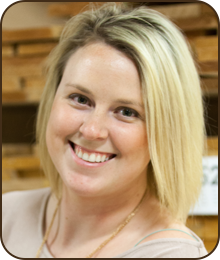 Michelle Ohland
Estimator / Human Resources / Administration
Michelle joined the family business in 2012, after earning her bachelor's degree in business from Augsburg College — a degree she's putting to good use. She is responsible for estimating projects, invoicing clients, and handling accounting, payroll, employee benefits, and customer service (among other things). When she's lucky enough to get away from our shop and showroom, Michelle likes to spend time with family and friends, relax at home, and travel. She and her husband live in Prior Lake, MN, with their son, two dogs, Kobe and Kane.

In your new home, nothing makes as much of a statement as the cabinetry. The warmth of the wood. The sweeping lines they create. The way they pull the rooms together. We work with the areas top builders creating homes that appreciate in value because of the attention to quality design and construction. 
Address
7965 215th St. West
Lakeville, MN 55044
Hours
8:00am - 4:30pm
Monday - Friday